Rwanda Coopac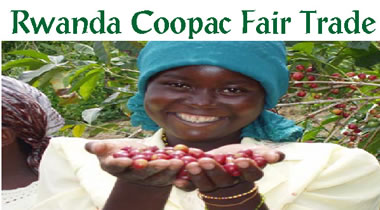 Within Eastern Africa lies the "country of a thousand hills", Rwanda, which received this name because most of the land is mountainous. Situated between 1,300 and 2,400 meters in altitude, there is limited area
suitable for general agriculture.
Coffee production began in 1904 and has developed as the main source of income for farmers. Today approximately 400,000 coffee producers operate small farms with 300-500 trees per family.
The COOPAC cooperative began in 2001 and is located 0n the mountain slopes in western of Rwanda, above Lake Kivu.
The cooperative started cut with 110 members and has grown to 2,200 members from six areas within the country. The cooperative has three environmentally friendly washing stations that filter off waste by-products from coffee  processing for use as fertilizer, instead of emptying this waste into three nearby rivers and lakes.
COOPAC also distributes shade trees to farmers in the districts of Nyamyumba and Kayove. These trees help to protect soil erosion and enhance organic coffee production as well as the forest ecosystem in these regions.
COOPAC Rwandan coffee stands out with its smooth body and overwhelming lemony flavors.
Region and Geography: Grown in the zones of Nyamyumba and Kayove, in
the Southern Bugoyi district of Gisenyi.
Climate: Wet Season: Oct-Nov Dry Season: Dec-Sept
Tree Type: Bourbon
Preparation & Drying: Washed process & Sun Dried on raised beds
Altitude: 1400 to 1850 meters
Cupping Characteristic: High marks in acidity, body and character. Sweet start, lemon, lime and peach notes.
Melitta Extraction: Sweet, citrus acidity complemented by a full body show the excellent balance of this bean. Subtle flavors of raspberry and peach leave you with a clean but lasting finish.